It doesn't matter when you replace your siding as long as it's done, right? As it turns out, this is not the case, especially if you're adding vinyl siding. Because vinyl is especially susceptible to temperature extremes, replacing it in the winter or summer may compromise the quality of your new siding installation.
According to Plymouth siding contractors, there are ideal times of the year when you want to perform specific remodeling projects such as siding replacement, so it may be worthwhile to wait until the perfect time if you can. If you're wondering when you should renovate your home's siding, the simple answer is generally in the fall. However, the reasons behind such a response need a bit more explanation. Continue reading to find out why.
Hot Weather Can Wreak Havoc on Siding Installation
If you've done any research on vinyl siding, you're undoubtedly aware that it doesn't always get along with the sun. Vinyl is a material, and like other plastics, it may melt when exposed to extreme heat. If it doesn't melt, hot weather can cause vinyl siding to expand and contract significantly, even if it doesn't melt. Vinyl siding can be longer in the summer than it is in the winter when it is nailed to your house. The problem is that the growing siding may collide with the window frames, causing it to collapse and finally come off.
Cold Weather Installations Have Their Own Issues
Similarly, installing vinyl siding during a frost, or when temps fall below 50 degrees, is not a smart idea. Cold weather installs have the reverse problem and the panels compress, making it simple to tack them on too tightly. Freezing temperatures, on the other hand, make vinyl more fragile. As a result, pinning the siding to the wall runs the risk of causing it to split and crumble. This can result in wasted panels.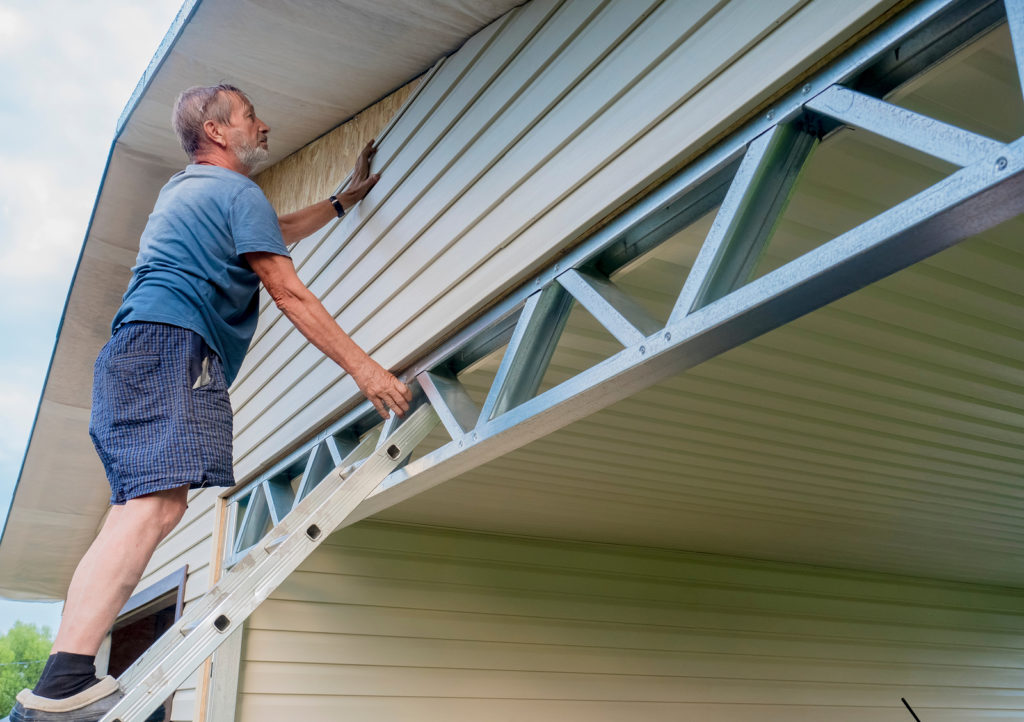 Spring Brings Moisture Issues
Despite the fact that April showers bring May flowers, the month of April is a particularly bad time to replace siding. An unexpected rainstorm might lead to mold if your siding repair contractor is midway through the job when they are forced to take a break. You don't have to be a construction professional to understand how harmful mold infestations may be. Extreme occurrences might result in a condition known as "sick building syndrome," which can have disastrous effects on your health—as well as a hefty repair price.
That, of course, is the worst-case scenario. If you chose to replace it in the spring, that is unlikely to happen. Still, it's better to be cautious than sorry, right? Furthermore, your employees will be happy if they do not have to labor in the wet to install your siding.
Siding Installation in the Fall Prepares Your Home for the Winter Heating Season
"Winter is coming" is not only a TV program tagline. The exterior of your home works hard to keep you comfortable and pleasant all year long, but especially in the winter. A siding project is an excellent opportunity to apply a weather-resistant barrier to your home, which may protect your inside walls from moisture while also significantly reducing heat loss. Even if you do not utilize a weather-resistant barrier, your installation will allow you to cover holes in old, aged siding that can allow drafts and chilly air to enter during harsh weather.
Replacing your siding in the fall is more than simply a home improvement project, it helps to winterize your home. Replacement of old siding with new materials and weather-resistant barrier underneath may result in a considerable reduction in your energy bills—even better if combined with stiff insulation. And do you know what all of that usually amounts to? Energy efficiency has improved.

Your Plymouth siding provider should be able to examine your building structure and advise you on whether extra weatherproofing elements such as these are necessary. Pour yourself a large mug of hot tea or cider, because, with new siding, you'll be warm and cozy all winter long.
Look no further if you want the services of a competent siding contractor! Minnesota Remodeling Solutions has been offering great services to the St. Michael region for many years. Our siding installers take pleasure in offering only the best installation service and expertise to our customers. Call us now at (763) 428-4888 to book a free estimate.